A few weeks ago, my nephew celebrated his 3rd birthday. I didn't make him the birthday cake. Apparently, he wanted a Mickey Mouse cake and they were looking into fondant, which is something I don't do (I love desserts seriously but I've never like fondant). So instead, I volunteered to provide accompaniment desserts.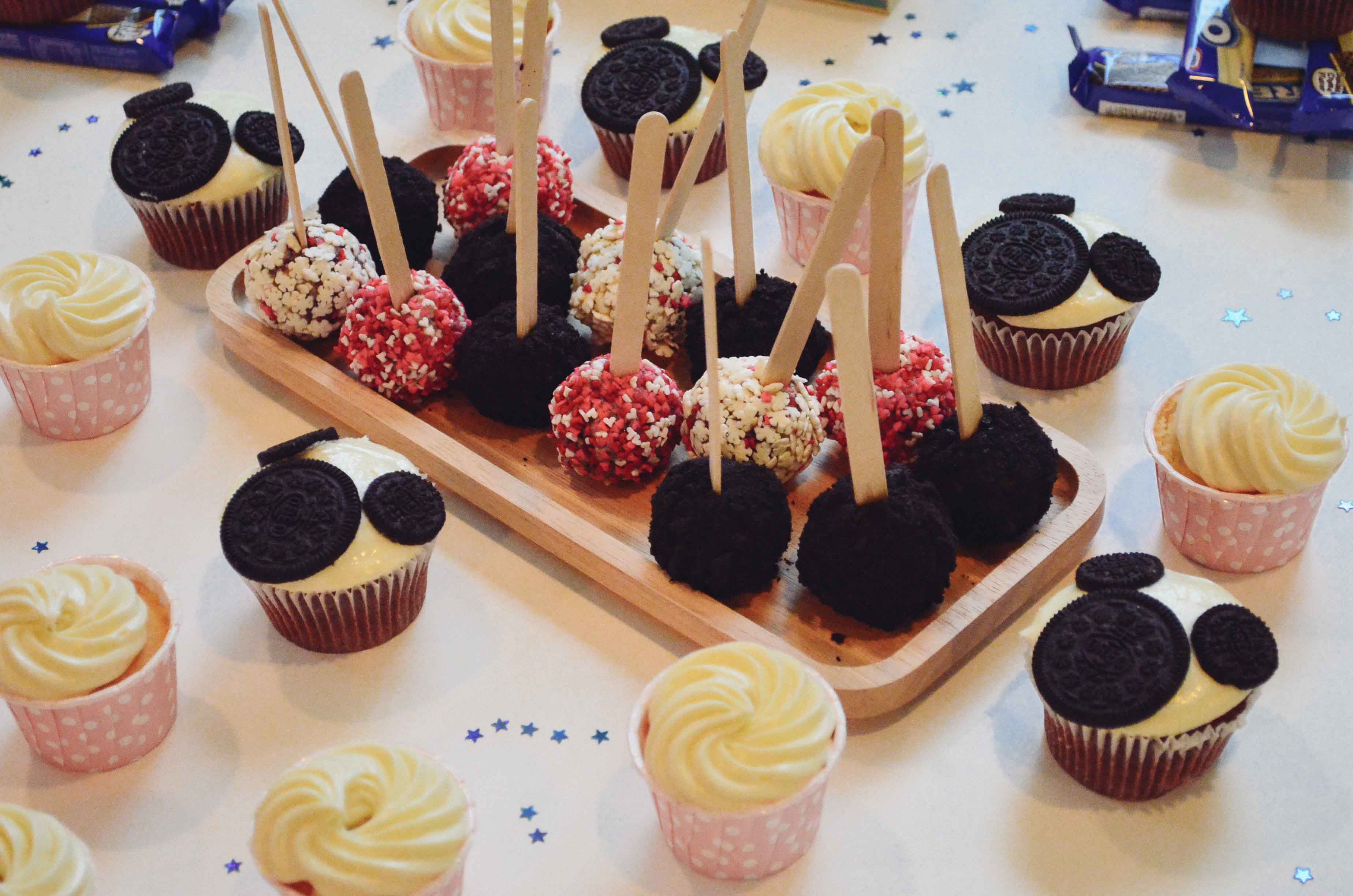 Mickey Mouse is my nephew's current favorite character, and naturally the character became the party's theme. The first item I made was this Mickey Red Velvet cupcakes, this time replacing the artificial red gel colorant with natural beet powder. The cakes did not get that vibrant red with the use of beet powder, instead it turned to a dusky rosy color, minus the nasty chemicals. Why not right? Mickey's face was easily achieved by using a regular Oreo as the face and two mini Oreo representing the ears.
I actually made another batch of yellow cupcakes, which was meant to frost it with a peanut butter frosting and strawberry jam. PB & J that is. But… I can't figure out what went wrong, the cake turned out to be unsatisfactory. It happens sometimes. Didn't want to waste, I crushed the cakes into fine crumbs (this was real fun!), mixed in some of the PB frosting, made into rounds the size of ping pong ball, roll them over melted dark chocolate and coat with sprinkles and crushed Oreo. I am glad that these cake truffles attracted quite a lot of attention from curious guests, tempting them to try. Can't tell you how it tasted because I didn't get to have a bite but I did taste the cake mix during the making and it was actually not bad.
When I was planning on what desserts to bring for this party, one of the sources I looked to was Donna Hay's Kid's issue 2012 (digital edition). And these Mud Pots came from there. It was made with milk, cream and Milo. The Milo pudding representing the soil and the mint stalk, the plant. So simple yet creative and very yummy too! I must mention that it was also extremely easy to make.
And….. Ta-dah!!!! Here's my oh-so-adorable nephew! He was really excited and extremely happy when everyone, including himself, sang him the birthday song.